Stam Kicks Off Campaign for House in Holly Springs
By: Kelly Griffith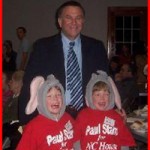 Stam stands with Phillip and Maxwell Donaldson (both 5 ½ years old). The twins dressed up in elephant costumes under t-shirts saying "Stam for NC House."
As the sun set Jan. 26, Paul "Skip" Stam greeted local Republicans at a barbeque to gather support for his campaign to be reelected to the North Carolina state House of Representatives for district 37.
Nearly 130 crowded into the Bass Lake Retreat Center in Holly Springs at 5 p.m. Saturday evening to recognize Stam's achievements in office and to talk about how to get him reelected in November.
Former mayor of Holly Springs for 17 years Gerald Holleman came to show his support and even changed his political party affiliation.
"I just decided I wanted to go in a different direction," Holleman said.
Holleman said he registered as a Republican because he believes Stam is great for the state of North Carolina. He said so many Democrats talk about wanting change, but Holleman is tired of promises not kept.
Holleman said he has been a huge fan of Stam's for several years. He said Stam practiced law with Holleman's uncle.
Stam later recognized Holleman in front of everyone for his party change.
"We'll have a cleaner and more conservative government that don't throw our money away," Holleman said.
After greeting several voters at the door, Stam said a short blessing over the food and invited everyone to grab a plate of barbeque, slaw, potatoes and rolls.
BB the clown blew up colorful "Stam NC House" balloons and tied them around the wrists of children while a jazz band played.
Stam said his nephew was the bass player of the group.
After most had taken time to eat dinner, Stam introduced several high-status Republicans around the room including former Chief Justice Beverly Lake, Jr. who gave a speech about Stam's campaign.
"I want him to stay in office as long as he wants to and perhaps run for governor," Lake said.
Stam also had two political awareness quizzes for attendees to complete. Stam split the room in four and groups raced to see who could get the most answers correct in the shortest time.
The prize n a Southern Supreme fruitcake, which Stam said was "actually good."
Executive Board member for the Western Wake Republican Club Vinnie DeBenedetto said the organization out of Cary tries to help local GOP candidates gain support by getting their names out to the public. The grassroots operation started in 2001 and now involves Cary, Holly Springs, Apex, Morrisville, Garner and Fuquay-Varina.
"Skip has helped Holly Springs a lot and his is just a great legislator," DeBenedetto said.
Representing the Republican Women of Cary, President Karen Wright-Fairley came to show support for Stam and encourage women to join the organization.
Wright-Fairley said the club of women inducted her as president in December and she became the first black woman to take the position. She said she likes Stam because he tries to educate people in the area about political issues.
Recently retired public school teacher Marion O'Quinn said she believes Stam is a competent candidate for the work North Carolina needs done.?
"He really takes in all perspectives and can deal with people with different opinions," O'Quinn said. "Otherwise, you just have gridlock."
Faye Johnson said that state government gets a lot completed because he knows how to give and take with the other side of the aisle.
"He can deal with Democrats," she said. "They respect him."
Stam said he would need $100,000 for his campaign. He said he has no paid staff for the campaign and all of his support will be through financial gifts and volunteers.
"We need lots of money; send it all in," Stam said. "We have a real opponent."
Stam took office in 1989 for one year and again in 2003. He has been the Representative for district 37 since then.
Stam's mother, Jane Stam Miner, said she is proud of her son's efforts for North Carolina.
"I think it's great," she said. "I think you have to be brave to run."